Go to vignette presentation

Dr Vijayalakshmi was the only presenter from India at the 4th Annual Meeting of AMED, the Academy of Microscope Enhanced Dentistry, held at the Loews Ventana Canyon Resort in Tucson, Arizona, USA, November 3-5, 2005.
The presentation was titled:
Microscope Enhanced Dentistry – It's a small world!
was scheduled at 5:00 PM on Thursday, November 3, 2005.

The response to this presentation was very encouraging, and productive. It was able to showcase the innate technical skill of Indian dentists on the international stage, and the desire to excel and upgrade to new technology in challenging economic conditions were highly appreciated by many in the audience
.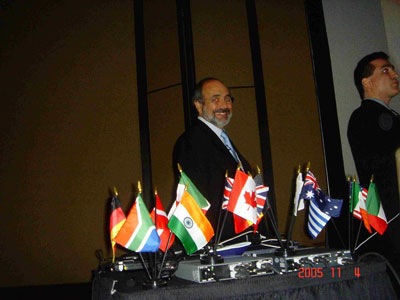 The Indian flag flying proudly in the international stage


Biodata published in the AMED Website & Program brochure:
Dr. G.K. Vijayalakshmi received her FFDRCS degree in Oral Surgery from Ireland after working for 5 years in various accredited Oral & Maxillo-facial Surgery departments in U.K. and Ireland. She is a BDS graduate from Vinayaka Dental Col- lege in Salem, Tamil Nadu, India. She re- turned to India in 1999 and has now settled down to a busy full time private practice in Coimbatore, where the expertise of many visiting consultants is also made available. She has installed a fully equipped Dental Operating Microscope for use with all root canal therapies including re-treatments and broken instrument retrievals and is also keen on using it for almost all general dentistry procedures. She is doing Branemark implants and conscious sedation. Her motto is to keep on improving the level of dentistry in her practice by constantly upgrading her skill, technique and equipment. She uses the internet to help her find all the necessary information to accomplish her goal with minimal disruption to her clinical practice & family life. She is married to Dr Girish Kumar, an arthroscopic & joint replacement surgeon who has obtained the FRCS degrees in General Surgery & Orthopaedic Surgery.


Home | Japanese Association of Microscope Dentistry | What is Microscope Enhanced Dentistry? |
| Facilities Available | Specialities | Implants | Sedation Dentistry | Micro-Dentistry | 59th IDC | AMED 2005 meeting |
| AMED 2006 Meeting | Vellore CDE | Newspaper articles | Links | About us |
Cosmetic Dentistry Treatment with Porcelain Veneers, Crowns, Bonding